Featured New RVs for Sale
MSRP:

$63,092

Save:

$24,175

Sale Price:

$38,917

MSRP:

$55,088

Save:

$18,171

Sale Price:

$36,917

MSRP:

$55,950

Save:

$19,033

Sale Price:

$36,917

MSRP:

$50,739

Save:

$15,822

Sale Price:

$34,917

MSRP:

$174,611

Save:

$85,703

Sale Price:

$88,908

MSRP:

$170,272

Save:

$50,364

Sale Price:

$119,908

MSRP:

$88,594

Save:

$26,677

Sale Price:

$61,917

MSRP:

$85,546

Save:

$29,629

Sale Price:

$55,917

MSRP:

$131,234

Save:

$54,317

Sale Price:

$76,917

MSRP:

$111,350

Save:

$41,433

Sale Price:

$69,917

MSRP:

$94,125

Save:

$29,217

Sale Price:

$64,908

MSRP:

$178,543

Save:

$53,626

Sale Price:

$124,917

MSRP:

$126,413

Save:

$37,496

Sale Price:

$88,917

MSRP:

$232,179

Save:

$62,271

Sale Price:

$169,908

List Price:

$102,366

Discount:

$16,449

Our Price:

$85,917

MSRP:

$598,425

Save:

$211,508

Sale Price:

$386,917

List Price:

$187,541

Discount:

$78,633

Our Price:

$108,908
Welcome to Open Roads Complete RV 
North Georgia RV Dealer in Acworth, Jasper, & White, GA
Whether you are on the hunt for your first RV or camper or are looking for expert RV service, we have great news. We have great news: your search is over. Open Roads Complete RV is your one-stop shop for everything you need. Not only do we have an extensive selection of popular RVs, campers, and trailers, but experienced technicians in the service department and the most competitive prices in the area. 
We are here six days a week to help you on your journey. We've got Acworth, White, and Jasper covered with the RV sales and service you are looking for.
Call us in Acworth, GA at 470-315-1265
Call us in Jasper, GA at 470-890-5625
Call us in White, GA at 678-533-6590
Learn More
New and Used RVs for Sale in Acworth, White, and Jasper Georgia
Buying an RV is a big investment and one that you want to last a long time. These homes on wheels are the doorway to family fun and new adventures for many years – and miles – to come. That's why we pride ourselves on having a large selection of RVs, motorhomes, campers, fifth wheels, and trailers at the most competitive prices in the area. From used Thor Motor Coaches to brand-new Crossroads RVs, you'll have plenty of choices to find the right RV that best suits your traveling and budgetary needs. 
Do you prefer Winnebagos? Don't worry, we know a thing or two – Open Roads Complete RV is the winner of the Flying W Award as the top-selling Winnebago dealership in the Southeast. We are committed to finding the right RV, camper, or trailer that is best for you, one that you will love every new journey you take.
Biggest Selection of Used RVs in North Georgia
At Open Roads RVs, we stand behind every product we sell, and that includes our extensive pre-owned RV inventory. We understand that a new RV isn't in the cards for everyone, that's why we carry a wide variety of used RVs and used travel trailers to fit your every need. If you live in North Georgia near Marietta or Rome and are looking for an pre-owned RV dealer you can trust, look no further. Our team prides itself on outstanding customer service and are here to answer any questions you might have. So, check out our impressive selection of used RVs from the comfort of your home, and let us help you find the perfect recreational vehicle for your next adventure(s)!
RV Loan & Financing Options near Atlanta and Chattanooga
Whether you're looking to value a trade in or just finance your new or used RV outright, our finance staff can help you find the best loans that work for your budget. With well established relationships with some of the most-trusted banks in North Georgia and the United States, our financial team can ensure you secure a monthly payment you're comfortable and confident with. Our online pre-approval application is easy and can quickly help you see what's available to you. Plus we can bundle it with your insurance, parts, and more to give you a simple monthly payment that covers all your RV expenses.
The Best Parts and Service for Your RV at Open Roads Complete RV in North Georgia
RVs are built to last, but to do so they need regular maintenance and routine RV service. Every vehicle on the road requires standard maintenance, like oil changes or tire repairs, and RVs are no different. Our state-of-the-art service department at Open Roads Complete RV is equipped to service and repair any issue that may arise, from battery swaps to water-leak containment, with quality RV parts and world-class mechanics. Our certified service technicians are dedicated to building a lasting relationship with our customers through quality service, great prices and specials, and exceptional customer experience. Whether you need to add a hitch, refurbish the interior, or repair the body after a collision, schedule an appointment online and let our experienced technicians take care of the rest. We'll even pick up and deliver your RV from wherever you are! One of the many reasons Open Roads RV is your number one RV dealer of northwest Georgia near Marietta and Rome.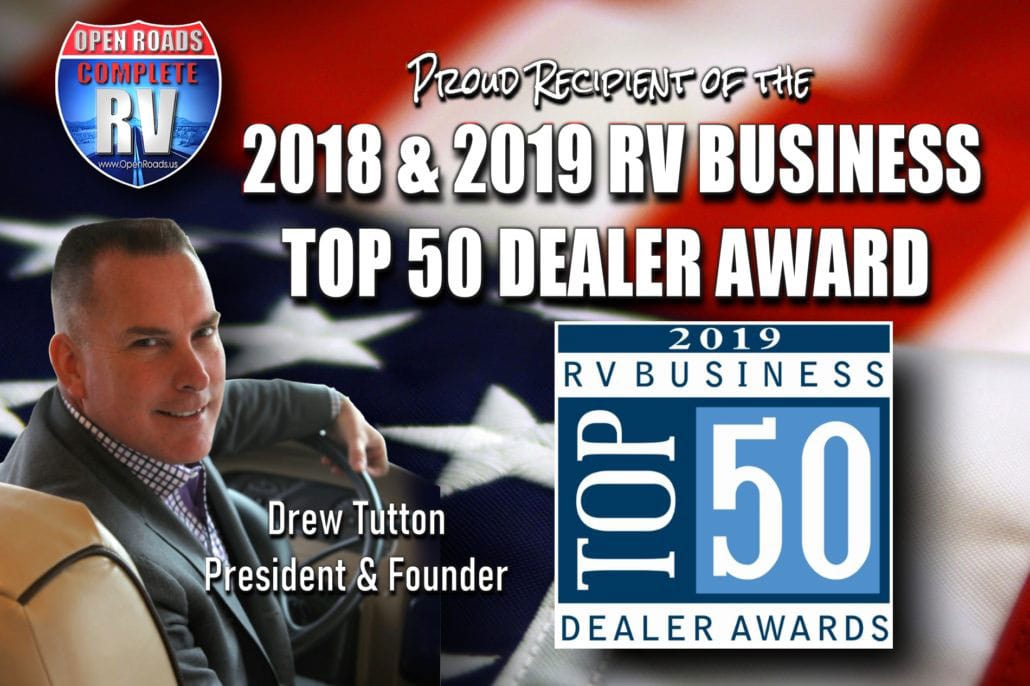 Don't miss this video with important updates!
Watch Now >