Motorized Service Packages
Motorized RV Service Package in Jasper & Acworth, GA
When we chose the name Open Roads Complete RV, we really took the "complete" to heart. As one of the country's premier RV dealerships, we not only offer the best selection of new and used RVs in North Georgia, but we take it to the next level with all your recreational vehicle service needs. This includes several comprehensive, high-value motorized service packages – starting at less than $500 – which will ensure your motor home remains in tip-top shape for years to come.
At Open Roads Complete RV, our state-of-the-art service and collision centers feature expertly trained technicians who use cutting-edge tools and advanced diagnostic equipment for all your regular maintenance needs … as well as the unexpected ones. They'll make sure that whatever cross-country adventure you choose next, you'll always always be confident that you're getting the most from your motorized RV.
Explore Our Many Motorized Service Package Options
Let Open Roads Complete RV take the guesswork out of your regular motor home maintenance and upkeep needs.
If you're in the Acworth and Jasper areas, visit any of our service centers and our experienced staff will guide you through all our Motorized Service Package Options, beginning with our Silver Package at just $496. This includes a water system flush and battery service, as well as testing electrical, roof AC and LP systems. Combine that with standard service features such as filter cleaning, leak checks, and other adjustments and the Silver package is one of the most affordable ways to ensure that your RV remains steady and true in all conditions. Of course, you can choose upgraded Motorized Service Packages as well.
For $696, the Gold level builds on Silver's basic platform and adds service for your leveling system and a tire pressure check. There's also an exterior sealant inspection, which includes roof and exterior, as well as minor touch-ups. For just $200 more, choose the Platinum Package and receive additional services of treating seals and lubing Slide Outs, Power Steps lube treatment, and an exterior wash for your RV.
Finally, for the best, most comprehensive Motorized Service Package we provide, consider the $1,296 Diamond tier. Our skilled technicians will perform all the maintenance and diagnostic services included in the Silver, Gold, and Platinum packages while also providing a roof wash and treatment, as well as cleaning and flushing your vehicle's holding tanks. Diamond is truly the most "complete'' motorized RV service special we offer.
Convenient and Fast Service From Expert Team at Our Jasper & Acworth Locations
If you're in North Georgia and you're diligently preparing for your next RV excursion, there's no reason not to visit one of our convenient locations in Jasper and Acworth. Our friendly, knowledgeable team will make sure that your vehicle is ready to tackle whatever the road throws in its path. You can give us a call or schedule an appointment online and the folks at our high-tech service center will guide you through the ins and outs of each of the four affordable Motorized Service Packages. After experiencing Open Roads Complete RV's world-class service, both you and your motor home will thank us for it.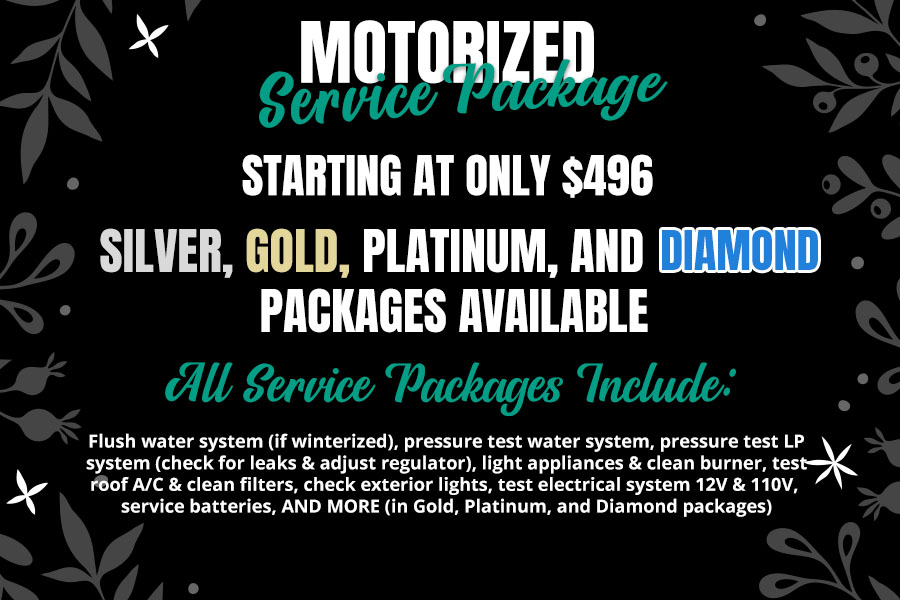 Silver Package
Reg. $596.00
Only $496.00
Save $100.00

Flush Water System (If winterized)
Pressure test water system
Pressure test LP system
(Check for leaks & adjust regulator)
Light Appliances & Clean burner Assy.
Test roof A/C & clean filters
Check exterior lights
Test Electrical system 12V & 110V
Service Batteries
Gold Package
Reg. $896.00
Only $696.00
Save $200.00

Flush Water System (If winterized)
Pressure test water system
Pressure test LP system
(Check for leaks & adjust regulator)
Light Appliances & Clean burner Assy.
Test roof A/C & clean filters
Check exterior lights
Test Electrical system 12V & 110V
Service Batteries

PLUS:
+Exterior Sealant Inspection: includes roof & exterior & minor touch ups(Sealants additional).
+Tire Pressure: Check and adjust
+Service Leveling System
Platinum Package
Reg. $1196.00
Only $896.00
Save $300.00

Flush Water System (If winterized)
Pressure test water system
Pressure test LP system
(Check for leaks & adjust regulator)
Light Appliances & Clean burner Assy.
Test roof A/C & clean filters
Check exterior lights
Test Electrical system 12V & 110V
Service Batteries
Exterior Sealant Inspection: includes roof & exterior & minor touch ups(Sealants additional).
Tire Pressure: Check and adjust
Service Leveling System

PLUS:
+Lube Slide outs & Treat Seals
+Lube Power Steps
+Exterior Wash
Diamond Package
Reg. $1696.00
Only $1296.00
Save $400.00

Flush Water System (If winterized)
Pressure test water system
Pressure test LP system
(Check for leaks & adjust regulator)
Light Appliances & Clean burner Assy.
Test roof A/C & clean filters
Check exterior lights
Test Electrical system 12V & 110V
Service Batteries
Exterior Sealant Inspection: includes roof & exterior & minor touch ups(Sealants additional).
Tire Pressure: Check and adjust
Service Leveling System
Lube Slide outs & Treat Seals
Lube Power Steps
Exterior Wash

PLUS:
+ Roof wash and treatment
+ Clean and flush holding tanks (tanks must be empty.)