Towable RV Service Package in Jasper & Acworth, GA
For the best all-around RV experience, there's no one who can match Open Roads Complete RV's incredible selection, competitive prices, and commitment to customer satisfaction. That includes our ultra-convenient, state-of-the-art service center where our highly trained staff will make sure that your towable RV is prepared for the rigors of the campsite, or wherever you decide to make your home away from home.
Visitors to our Jasper and Acworth locations are some of the savviest recreational vehicle enthusiasts out there; they know that we take the "complete" in our name to heart. That means when it's time for some much-needed TLC, our Towable RV Service Packages are tailor-made to fit your RV needs. Swing by one of our North Georgia locations and our friendly team will help you find the optimal package for your next endeavor.
Discover Which High-Value Service Package Is Right for Your Towable RV
Whether it's addressing current maintenance issues or preventative care, no one offers more thorough service options than Open Roads Complete RV. If your travel trailer, fifth wheel or toy hauler needs attention, visit one of our amazing service centers in Jasper or Acworth. Our knowledgeable staff will help you decide which Towable RV Service Package is the best fit for your adventurous lifestyle.
All of our extensive towable service packages include a pressure test and flush (if winterized) of your RV's water system. We'll also pressure test the LP system, as well inspect for leaks, and adjust the regulator. Our checklist of meticulous assessments continues with the roof A/C, 12V, and 1110V electrical systems and appliances, which includes cleaning the burner assembly. Finally, all our service specials feature a detailed check of your RV's exterior lights and battery service.
For $696, you can upgrade from the base-level Silver-tier to the Gold Package, which tacks on additional services such as a tire pressure check and adjustment, jack and coupler lube application, and an inspection of the breakaway switch. We also perform an exterior sealant inspection, which includes the roof and exterior, and also minor touch-ups.
The upgraded Platinum package is an additional $200 and features all the previously mentioned services, as well as lubrication and seal treatment for your RV's slide-outs. Our expert technicians will finish up with a wheel bearing repack and an exhaustive brake inspection.
If you're anything like the experienced team at Open Roads Complete RV, you'll want to opt-in for the Diamond package. The benchmark for comprehensive service for your travel trailer, fifth wheel, or toy hauler, it builds on lower tiers with a roof wash and treatment, an exterior wash, and a flush and cleaning of the holding tanks. And all for the value-packed price of $1,296.
Before Your Next Outing, Make Open Roads Complete RV Your First Stop
There's no other dealer in North Georgia that so unequivocally encompasses the full RV experience than Open Roads Complete RV. We are so confident of that fact, we even put it in our name. If you need expert care for your travel trailer, fifth wheel, or toy hauler, visit our service centers in Jasper and Acworth today, and our welcoming staff will discuss the many benefits of our four available Towable RV Service Packages.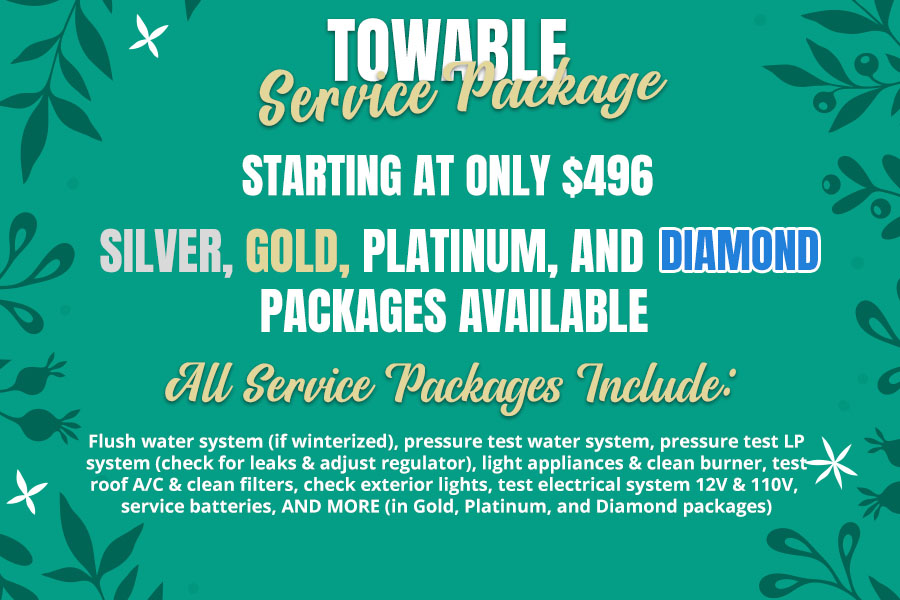 Silver Package
Reg. $596.00
Only $496.00
Save $100.00

Flush Water System (If winterized)
Pressure test water system
Pressure test LP system
(Check for leaks & adjust regulator)
Light Appliances & Clean burner Assy.
Test roof A/C & clean filters
Check exterior lights
Test Electrical system 12V & 110V
Service Batteries
Gold Package
Reg. $896.00
Only $696.00
Save $200.00

Flush Water System (If winterized)
Pressure test water system
Pressure test LP system
(Check for leaks & adjust regulator)
Light Appliances & Clean burner Assy.
Test roof A/C & clean filters
Check exterior lights
Test Electrical system 12V & 110V
Service Batteries

PLUS:
+Exterior Sealant Inspection: includes roof & exterior & minor touch ups(Sealants additional).
+Tire Pressure: Check and adjust
+Lube Jacks & Coupler – Check Brake away switch
Platinum Package
Reg. $1196.00
Only $896.00
Save $300.00

Flush Water System (If winterized)
Pressure test water system
Pressure test LP system
(Check for leaks & adjust regulator)
Light Appliances & Clean burner Assy.
Test roof A/C & clean filters
Check exterior lights
Test Electrical system 12V & 110V
Service Batteries
Exterior Sealant Inspection: includes roof & exterior & minor touch ups(Sealants additional).
Tire Pressure: Check and adjust
Lube Jacks & Coupler – Check Brake away switch

PLUS:
+Lube Slide outs & Treat Seals
+Wheel Bearing Repack & Brake Inspection
Diamond Package
Reg. $1696.00
Only $1296.00
Save $400.00

Flush Water System (If winterized)
Pressure test water system
Pressure test LP system
(Check for leaks & adjust regulator)
Light Appliances & Clean burner Assy.
Test roof A/C & clean filters
Check exterior lights
Test Electrical system 12V & 110V
Service Batteries
Exterior Sealant Inspection: includes roof & exterior & minor touch ups(Sealants additional).
Tire Pressure: Check and adjust
Lube Jacks & Coupler – Check Brake away switch
Lube Slide outs & Treat Seals
Wheel Bearing Repack & Brake Inspection

PLUS:
+ Roof wash and treatment
+ Exterior wash
+ Clean and flush holding tanks (tanks must be empty.)